SNOW CLEATS INSTRUCTIONS MANUAL
Limm Ice and Snow Traction Cleats
Congratulations! You are now a proud owner of the high-quality Limm Traction Snow/Ice Cleats, designed to help you during the winter season. Attach the cleats to your boots or shoes and feel the difference when it comes to traction while walking during icy, snowy, or even muddy conditions. Just pull out your traction cleats from the carry bag and be ready for whatever comes your way.
Parts Included:
a. Two rubber cleats with spikes (sizes M, L, XL).
b. Carry bag.
c. Instructions manual.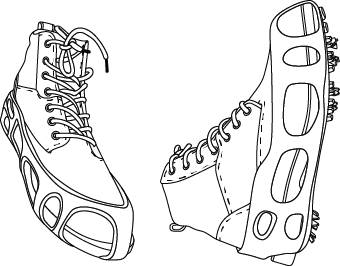 | | | |
| --- | --- | --- |
| CLEATS SIZE | US Men's Shoe Size | US Women's Shoe Size |
| | | |
| | | |
| | | |
| | | |
---
Important Recommendations and Warnings
We suggest wearing comfortable shoes and to securely tie the shoelaces to avoid stepping on them.
To get prepared to put your cleats on, you may first sit comfortably in a chair and put your feet in a small elevated platform or a low stool. Then, slowly put your traction cleats on your shoes. Do not try to put them on while standing, to avoid back strain.
Be sure to wear the traction cleats as snuggly fit as possible. Inspect the spikes and make sure that these are well- distributed at the bottom of the shoe, by adjusting the rubber frame if necessary.
When walking in your Limm Traction Cleats, trekking or hiking an uphill road or even off-road, always keep in mind to secure your footing as you move in the icy surface.
If you plan to use your traction cleats while carrying heavy loads, it is recommended to bring along a walking stick to support your upper body and keep it well-balanced.
Cleaning Your Limm Traction Cleats
Icy roads: to clean your spiky cleats after use in icy roads, you can hang them out to dry, but make sure to do it away from the sun. As soon as they dry up, you may store your spiky cleats in the carry bag.
Muddy road: To clean your spiky cleats after using them on a muddy path, you can soak them in water until the mud loosens up. Do not attempt to remove the dirt with your bare hands, as this can cause injury. You can use an old brush to remove stubborn pieces that are stuck. Then, when done, hang the cleats to dry (away from the sun to protect the rubber).
The recommendations in this instruction manual are not medical guidelines. They are for education purposes only.
You must not rely on the information in this sheet as an alternative to medical advice from your doctor or other professional healthcare providers.
---
How to put on the Limm Traction Cleats
Slowly pull out your pair of Limm Traction Cleats from the packaging. Always keep in mind to handle your Limm Traction Cleats safely.
Put a little stretch on the rubber portion of the traction cleats to warm it up.
Put your normal shoes on. We suggest doing this by a door or outside, to prevent the floor from being damaged by the spikes.
If possible, sit comfortably in a chair or bench and put your feet on a small elevated platform or a low stool. Alternatively, you can stand and alternate lifting your feet.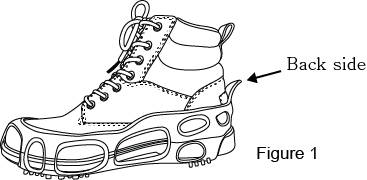 5. Align the cleat in the correct direction. Note that the back side is the one with the "tongue" (Figure 1).
6. Align the front side of the cleat over the front part of your shoe. Hold the front rubber with both of your hands, on both sides of the cleat, letting the cleat hang down.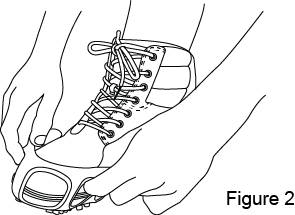 7. Slowly insert the toe of your shoe into the front rubber (Figure 2).
8. Anchor the front rubber area on the shoe while slowly stretching the rubber on both sides of your shoe.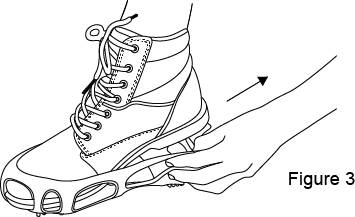 9. Anchor the back area of the rubber onto the heels of your shoe. Securely position by allowing the rubber to rest comfortably (Figure 3).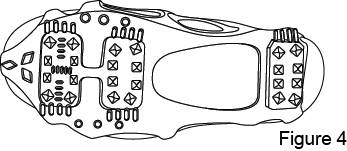 10. Adjust the rubber around the shoe to avoid sagging. The cleat should fit nicely around your shoe (Figure 4).
---
Frequently Asked Questions
Why does one need spiky cleats?
Winter time can be slippery, and a portable and durable pair of spiky cleats can prevent you from slipping and falling, thus protecting you from injury. The traction cleats reduce the risk of unexpected injury from slips and falls when walking on icy or snowy roads, muddy grounds, and wet grass.
Where can we use spiky cleats?
The cleats can be worn over the soles of your shoes to prevent slips and falls in winter or slippery conditions. They are great to avoid those patches of black ice and get some excellent traction when hiking.
On which occasions are the spiky cleats most useful?
Hiking
Walking in muddy terrain
Walking on grassy or stony grounds
Mountain climbing or trekking on a snow-laden mountain
Pursuing hobbies like fishing on ice
Going to work on snowy and icy days
Getting from your house to your car in winter
How do I know the weather is bad enough that I need spiky cleats?
We recommend bringing your cleats along with you any time that the weather is snowy or icy: during snow days and for some days after that, as the streets may retain ice for some time. If you are hiking through muddy areas, the cleats can be useful even during rainy summer days.
Can I only use spiky cleats during the winter season?
While they are mainly intended to help in winter, the cleats are useful whenever you need more traction and stability on your shoes. Use them on rainy days when it gets muddy, on hikes and even to add some fun when walking your dog :)
Where should I store the spiky cleats?
After cleaning them, store the cleats in the included carry bag. They should be kept away from sunlight and heat to help preserve the rubber.